About Us
We recommend you sample the delicious 'Philly Steak Sub', which comes with 100% prime Irish steak on fresh Italian style bread smothered with melted cheese and onions.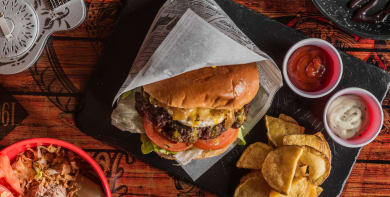 Reviews
"Was really good! Got the Dicky Combo (taco fries, 6 chicken and a doner kebab wrap)."
"Great pizza & amazing chips. Will definitely be going back :)"
Find Us
Dublin
2 Beechfield Avenue, Dublin, WALKINSTOWN
Opening Hours
| | |
| --- | --- |
| Monday | 16:00 - 22:00 |
| Tuesday | 16:00 - 22:00 |
| Wednesday | 16:00 - 23:00 |
| Thursday | 16:00 - 23:00 |
| Friday | 16:00 - 23:00 |
| Saturday | 16:00 - 23:00 |
| Sunday | 16:00 - 22:00 |
Delivery times may vary
We deliver to:
Ballyfermot, Ballymount, Belgard, Bluebell, Carna, Castletymon, Chapelizod, Cherry Orchard, Citywest, Clondalkin, Clondalkinballymount, Clondalkinmonastery, Cookstown, Crumlin, Decies, Drimnagh, Drumfinn, Fettercairn, Fortunestown, Goldenbridge, Greenhills, Harolds Cross, Inchicore, Jobstown, Killnarden, Kilnamanagh, Kimmage, Kingswood, Kylemore (Dublin), Kylemore Road, Longmile Road, Naas Road, Old Bawn, Park West, Perrystown, Ranelagh, Rathfarnhamballyroan, Rathgar (Dublin), Rathmines, Red Cow Roundabout, Springfield, Tallaght Village, Tallaghtavonbeg, Tallaghtbelgard, Tallaghtfettercairn, Tallaghtglenview, Tallaghtjobstown, Tallaghtkillinardan, Tallaghtkilnamanagh, Tallaghtkingswood, Tallaghtmillbrook, Tallaghtoldbawn, Tallaghtspringfield, Tallaghttymon, Templeogue, Templeogue Village, Templeoguecypress, Templeoguekimmage Manor, Templeoguelimekiln, Templeogueorwell, Templeogueosprey, Terenure, Terenurecherryfield, Terenuregreentrees, Terenurest. James, Tymon North, Walkinstown